Fragments was born out of the idea of having various synthwaves randomly changing in volume, tuning, cutoff and pan over time so when layered this should result in a very textural and organic sound even though it is based on a synth. Of course does this fact give nearly full control over the evolving sound. The final result is a mixture between pure and beautiful, dusty(sometimes even with some noise) or even distorted elements, but you can be confident that Fragment is one thing for sure: textural, even the plain pads.

Easy Interface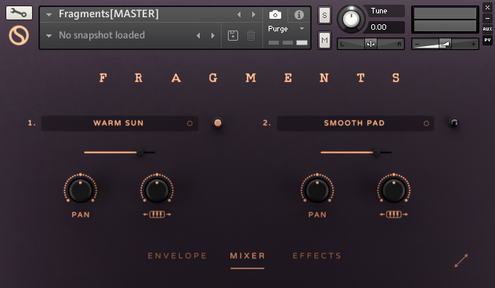 The two main interfaces (Envelope and Mix) are really easy, clean and straight forward and only contain the most necessary controls like ADSR (obviously), Volume, Pan and Volume Keytracking.With only that few controls you got the option to create a great variety of sounds. You can bypass/activate a layer by clicking on the lamp next to the sample menu. All samples are as well dynamically purged to save system ressources.

Perform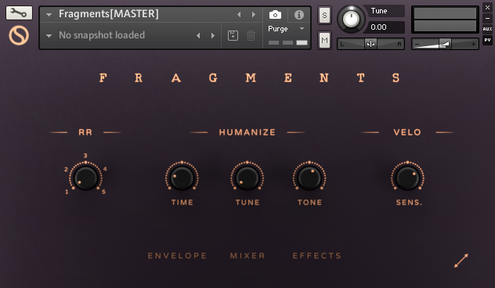 The Performance page allows you to really change the overall sound of the instrument and can indeed make a huge difference. The Multisampled Patches (Pads and Bells) give you the ability to activate a Neighbour RR system, which creates more variation in sound (you can set the RR number too). It can of course be activated on the non multisampled stuff but it won't have any hearable effect :)Besides that are three great ways to humanize your sound even more. Using random timing up to 50ms or detuning or even tone variation is the definitive option to retain a very organic and non machine gun like output. Also there's a Velocity Sensitvity control so this page contains all controls you need to shape your performance.

Effect Rack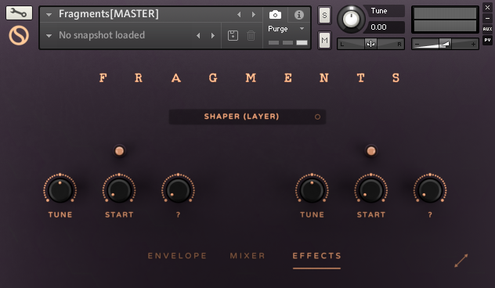 The Fx rack includes a lot of deep editing options if wanted. It includes the following Effects:
· Shaper, a module to further shape the sounds (works per layer)
· Gate, Movement and Drift (works per layer)
· Transient Designer and EQ (works per layer)
· Ensemble
· Filter and Filter Envelope
· Crush and Drive (Tape, Tube, Transistor)
· Master Eq
· Chorus and Phaser
· Synched Delay and Reverb